Travelled in France for a wedding in Paris!
It's been one month since we got back from Paris, and I still can't believe how a destination wedding that came up at the last minute sent us to the ultimate city of love and romance. We didn't have enough time, however we managed to organise a destination wedding in Paris on a péniche on the Seine and surpass our expectations
– and we're really proud of that! –
With our dearest A&J we had come in contact earlier, as we were already planning their destination wedding to be held in Greece within the wedding season 2021, so it was easier to come up with ideas that would meet their dreams. They' ve decided to hold their civil marriage ceremony at the city they live in and combine it with a very special party for their friends and relatives.
It's been a very unique experience for me, as I had the chance to work with highly creative vendors and of course with the talented florist Akiko from Floraison de Paris, with whom we designed very special wedding flower arrangements as well as a marvellous wedding arch. And all this upon the background of iconic Parisian spots!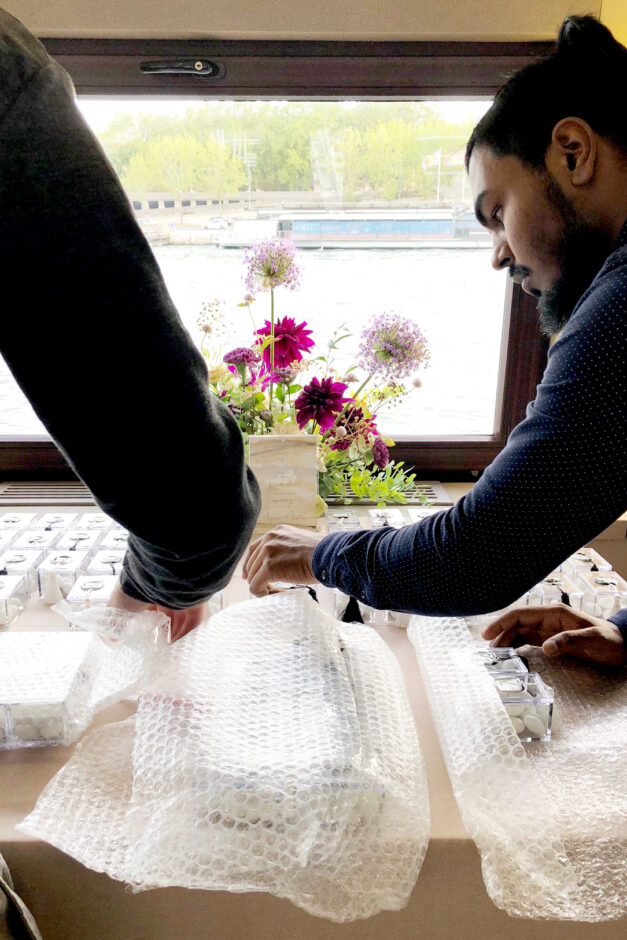 We've been lucky, as the unfavourable weather forecasts, and the wedding day turned out to be a perfectly sunny autumn day. Along with Thanos Asfis and Vassilis Kantarakis we travelled to Paris and got creative in a very different concept, surrounded by the legendary enchanting Parisian aura. We can't wait to share photos and video with you – soon to be posted. No matter how much you expect from Paris when you hold a wedding ceremony and reception there -as it is so famous for the romantic atmosphere it evokes-, the City of Lights will always overwhelm you.
Photos: From my iPhone 😉