Christmas Dinner Table Decoration Ideas
Only a few days left until Christmas, and how could we not have something exceptional and heartwarming for you? In such an emotionally loaded time like this, and not being able to open our houses to larger gatherings, we thought we should prepare a very intimate and cozy Christmas dinner table for two, to remind you that it's not the number of people that makes the dinner special. It's the quality of the loved ones present. The warmth of Christmas lives in the precious moments shared by two people in love.
For us, these days are even more valuable, because every year we plan and organize Christmas private events, decorating venues and private houses filled with people who believe in the magic of the days. This year we wanted to keep the Christmas spirit alive, by putting up our worktable in our back yard, where along with our beloved partners we are sharing with you all this energy and love for the brightest and most magical day of the year!
This year's Christmas palette includes dusty greens, warm reds and grays and of course gold touches for the additional glow required for the day. We designed a dreamy flower arrangement and created a romantic Christmas dinner for two, which with the help of the amazing talented floral designer Jim Lambraco we brought to life.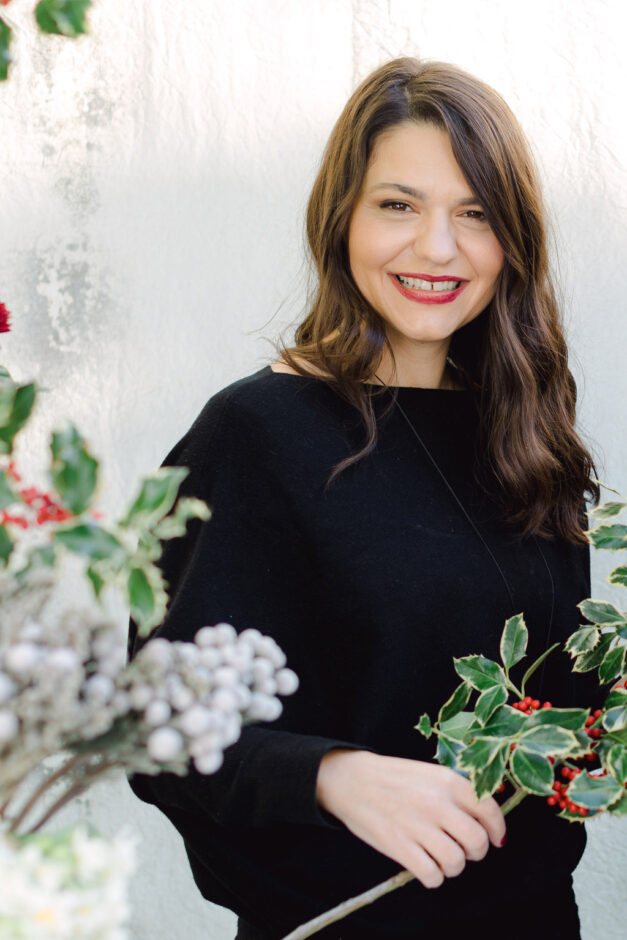 Our long velvet pale dusty green tablecloth served as the perfect canvas to bring out all the items we carefully placed on the small yet very special dinner table. The gold cutlery, the ceramic plates in warm grey colors, the linen napkins, the crystal glasses and of course the tall candles we arranged gave additional glow and luxury.
Of course, we too enjoyed all this, since we spent an entire day doing what we love most: designing and creating! We made Christmas wreaths, special handmade Christmas cards with calligraphy and red poinsettias painted with watercolors. We even experimented with the art of cocktail making, and discovered a whole new world of potential creativity! And we assure you: cocktail mixing can be fun!
Once again our dear friend and exceptional photographer Vasilis Kouroupis put his heart and soul to capture all these joyful moments and so we are proudly able today to share with you all our feelings. Christmas day always reminds us that we have to believe in the magic and the power of the people we have by our side. It makes us remember that it's not how much we give, but how much love we put into the giving! To celebrate this day even more we wanted to spread magic and so we created a Christmas giveaway. A lucky couple will win what we've prepared! You will find more information on this on our Instagram account –
/mazi_event/ – these days!
After an entire year of ups and downs, after a year that we all had to postpone our plans, we send you love and a dreamy Christmas inspiration along with our warmest wishes for a very merry and bright Christmas!
xoxo,
Iokasti & Team
Photography: Vasilis Kouroupis
Concept, Styling & Design: Mazi Event
Flower Design: Jim labraco
Artwork & Stationery: Mazi Chirography
Make up & Hair: Frantzeska Koukoula