Searching for wedding locations in Greece? Consider a destination wedding in Milos!
Milos, Greece, becomes more and more popular for destination weddings. Its unique natural backdrops and its minimal elegance, puts it at the top of our list, when couples ask us for wedding locations in Greece. We just came back from inspecting the island, for a wedding we are planning, and words are not enough to describe its beauty, so it is no wonder that it is called the exotic island of Greece. One of the most exciting parts of planning a wedding, is travelling on behalf of our clients, to inspect and discover the most magical wedding venues and come up with the ideal locations. With more and more couples eloping to Greece for a whitewashed destination wedding, Milos certainly offers the perfect setting with its organic beauty, and we are about to share with you how to plan the ideal wedding getaway.
This ultimate 5-step guide will hint you the essentials for a flawless wedding weekend in Milos
Organize your pre wedding party
More than 70 beaches conclude this lunar island, where you can rent a boat and wonder around the pacific Aegean waters, for a full day under the sun. The white petrification beaches, with countless caves are like landing on moon, as the volcanic rocks paint the island's skin, in pink, orange and red tones. It is those picturesque rocks, emerald waters, and vividly painted houses that give the island this uniquely authentic aesthetic.
Take advantage of these earthen rich textures and organize a boat trip that'll create bonding experiences with family and friends. Spend the entire day on board; select great Greek wines from local wineries and escort them with grazing platters, and local scents. The appropriate music will set the mood for the whole day, while making priceless lasting memories by watching the sunset, relaxing, or having a swim underneath the caves. Soak up some Vitamin D, lose anxiety, unplug, and get ready for your wedding day.
Pick a great spot for the wedding ceremony and reception
If you are seeking for a religious wedding, more than 140 churches and chapels, fill Milos' scenery. Whether you are interested in an imposing church in central Milos, or a minimal whitewashed chapel with the blue Aegean Sea as a background, this island can offer anything.
No need to worry though, as we have options for couples who prefer symbolic ceremonies rather than religious. Sometimes, a great landscape is all you need. You can get married under a cathedral of bougainvillea flowers. After all they are the signature of the Cycladic islands. Otherwise, an aethereal setting with chairs on the beach and the idyllic blue backdrop of the sea, render the setup ideal.
Following the wedding ceremony, make sure to have found your ideal wedding venue. Choosing a venue always depends on the size of your wedding and the month of your choice but try to select a place that aligns with your style and the guest experience you envision. There are several hotels and sea view venues that will create an idyllic scenery and an ambient environment for your guests to feel comfortable and relaxed. Buying out the venue for your special day is always a wise choice, especially in Milos. Apart from securing your privacy and the luxury of being exclusive with your guests, you can avoid limitations in music, as most venues in Milos are strict on that.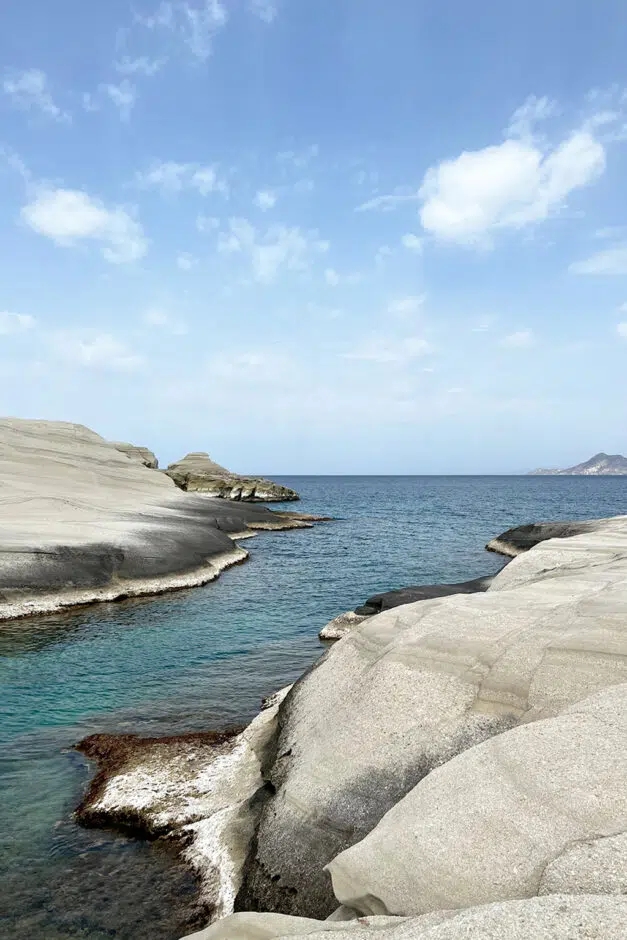 Make it last
Who says weddings should only last a day? From our so far experience, more and more couples extend their wedding, to a weekend celebration. A great way to extend the celebration after a super wedding party, is having a farewell brunch in Milos. Spending the next day at the island villages, take a stroll around the quaint alleys, discover the true beauty of the traditionally Cycladic civilization, which is strongly and proudly preserved, is something we definitely recommend. This will give you some extra time with your beloved guests, before they head home, and it is always great to seal your guest experience in a cozy and embracing manner.
Taste, taste…. taste
There is nothing more traditionally Cycladic than the local cuisine. Watermelon pie, "pitarakia" with Greek "mizithra", "koufeto" with white pumpkin, tomato balls, local lamb casserole and the famous "Flaounes" are some of the mouth-watering trademarks you can taste in Milos.
Here is a secret though. As you imagine, the archipelago is plentiful of fresh fish and seafood. The fishermen supply the taverns and restaurants very early every morning. If you go meet them in the harbor, you can select among the fresh fish they have just caught and arrange to deliver them to your chef and enjoy it on your pre-wedding boat trip.
Have it grilled with Greek herbs; oregano, rosemary, thyme and combine it with island-made cheese from local goats and Greek spirits like Ouzo and Tsipouro. This is the Greek island experience; your guests will always be nostalgic about.
Get Support
You may think that wedding planning is manageable and stress-free, but there are countless loose ends that you will need to face. It is a huge time commitment, between coordinating vendors and arranging every little element. There are many decisions that you should make, and last-minute challenges may arise. Luckily, there is no need for you to take on all that responsibility. Have an experienced team alongside you, to take care of everything while you have fun, and you will thank yourself later. Choose your team wisely and enjoy your wedding weekend stress-free and relaxed.
xoxo,
MAZI Event Team